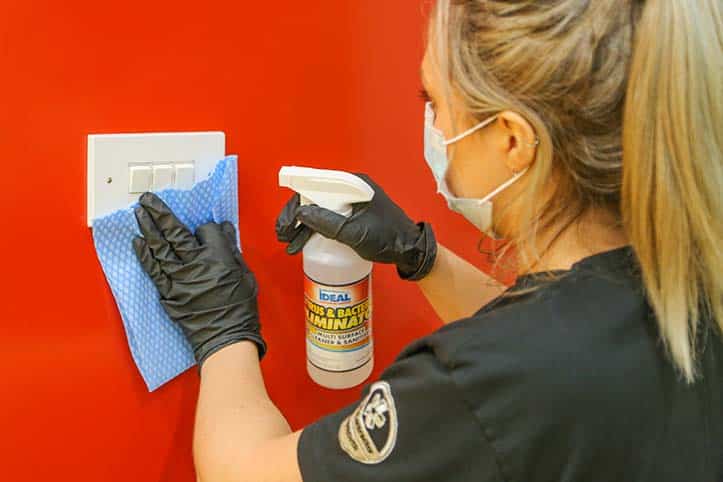 The Covid-19 Coronavirus is causing a great deal of concern in many confined environments such as offices, factories, retail outlets and schools. A suspected outbreak can even result in the closure of your premises.
Ideal Cleaning Centre can successfully sanitise entire buildings and equipment to ensure your business is safe for your customers and staff and allow you to keep trading. If you need help, give us a call without delay.
What are the risks of Coronavirus?
​The highly contagious Coronavirus is easily distributed in the air through miniscule droplets that are released whenever an infected person coughs, sneezes, breathes or talks. As yet, it is unclear how long the droplets remain active on the surfaces they land upon. The flu-like symptoms do not usually become noticeable for seven to fourteen days of contracting the virus, so many areas within an infected person's range will inevitably be contaminated.
How to make your premises Virus-Free
Our specialised deep cleaning service effectively sanitises every item and surface with a successful bacterial kill rate of 99.9999%. Alternatively known as a log kill of 6, it leaves every area of your premises hygienically clean and safe. We use a wide range of approved chemical cleaning agents that can tackle the Covid-19 Coronavirus. A variety of specialised cleaning techniques such as spraying and fogging are used to ensure even the most awkwardly placed crevice is treated. However small or large your premises are, we can make them hygienically safe
Which surfaces and equipment are sanitised?
​Everything is meticulously cleaned. Our effective sanitisation methods are suitable for any area, including public and communal spaces that experience heavy traffic. Entire rooms from top to bottom are made clean and safe.This includes light fittings, walls, doors, windows and floors, as well as carpets / carpet tiles and hard floors are thoroughly treated. All types of furniture and equipment such as telephones, computer keyboards and even factory machinery are cleaned and sanitised. Our professional services are ideal for commercial kitchens, dining areas and food storage units where hygiene is of the utmost importance.
Professional deep cleaning services
Ideal Cleaning Centre offers an outstanding professional service with the highest standards and level of competency. Every member of our team is highly qualified and experienced in the demanding field of commercial cleaning and sanitisation. We hold valuable certification for professional deep clean hygiene solutions and several other accredited certificates. Appropriate Personal Protective Equipment is worn at all times. Our company is fully registered and works to the specific guidelines issued by the Government's Health and Safety Executive.
If you are concerned about the hygiene and safety of your premises during the Coronavirus outbreak, we'll pay you a visit and provide a quotation. Stay safe and contact us without delay​.