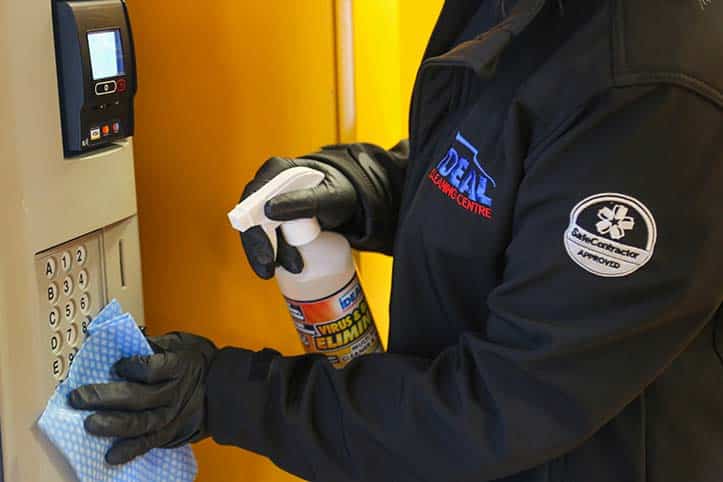 Ideal Cleaning Centre can successfully disinfect and sanitise your building and equipment to ensure your business premises are a safe environment for you, your staff and your customers.
Our specialised disinfection and sanitising services treats all areas of your building with a successful bacterial kill rate to a Log Kill of 6 (or 99.9999%). This means every area of your premises is left hygienically clean and safe. We use a variety of specialised cleaning techniques such as spraying and fogging to ensure even the most hard to reach areas are treated. Whatever the size of your business premises, we have the capacity to make them hygienically clean and safe. We don't leave anything to chance. We ensure that everything is scrupulously disinfected and sanitised.
The methods we use are suitable for a wide range of areas in your building. We pay particular attention to communal areas which are most likely to harbour germs such as office spaces, waiting areas, corridors, kitchens, toilets, stairwells, lifts and escalators. As well as general area disinfection and sanitisation, we focus on items frequently touched including light switches, door handles, cupboard handles as well as equipment including telephones, keyboards, mice and much more. We are able to offer our services to businesses of all kinds of industries as our processes will not cause damage to equipment.​
All members of our team are expertly trained in cross contamination and infection control
We hold valuable qualifications in Bio Hazard treatment as well as many other accredited certificates. As such our team are very knowledgeable and deliver the highest quality of disinfection and sanitisation you would expect.
Essential PPE & RPE is worn at all times during our disinfection and sanitisation process to ensure the health and safety of our staff and our customers. Our company is fully registered and works to the specific guidelines issued by the Government's Health and Safety Executive, as well as those of the World Health Organisation and Public Health England.
Our disinfection and sanitisation service is available across the North East of England including Middlesbrough, Darlington Stockton, Billingham, Newton Aycliffe, Redcar, Hartlepool, Sunderland and Newcastle areas.
Want to know more?