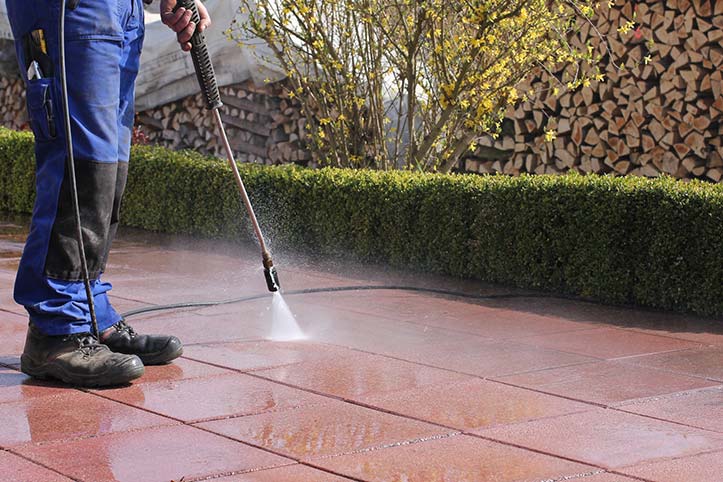 Ideal Cleaning Centre offers some of the best high-pressure cleaning services in Teesside for commercial properties.
While low-cost pressure washers are great for removing dirt and grime from weather-worn surfaces, this type of cleaning will only take you so far.
For a professional grade high-pressure cleaning services, look no further than Ideal Cleaning Centre. Having invested in the latest high-pressure cleaning equipment, we are confident in our ability to provide unrivalled quality in our cleaning service, leaving your property looking as good as ever.
The most obvious reason for using commercial high-pressure washers is the fact they offer unmatched results. They can remove dirt, grime, moss, and algae with minimal effort, allowing us to provide a quick turnaround in most instances.
High-pressure washing offers obvious benefits to commercial properties, namely removing unsightly build-ups of dirt, grime, and other natural substances. In many cases, this restores the surface area of the material to its original quality, making it appear brand-new.
More importantly, high-pressure cleaning is important for maintaining safe standards on surfaces such as pathways, driveways, and carparks that have become slippery. This can occur on many surfaces that aren't properly maintained, so our high-pressure cleaning can even act as a preventative measure that eliminates all risk.
Every building and forecourt we work on – whether a retail carpark, or office tower – is left in immaculate condition. Our team takes the time to effectively remove all visible signs of dirt and grime at have accumulated over the years.
In no time at all, your premises will be left looking better than ever thanks to our high-pressure cleaning services.
​We offer our pressure washing services in and around the Middlesbrough, Stockton, Darlington & Hartlepool areas. You can view the full list of areas that we cover here or you can contact us to check if we cover your area.
Want to know more?