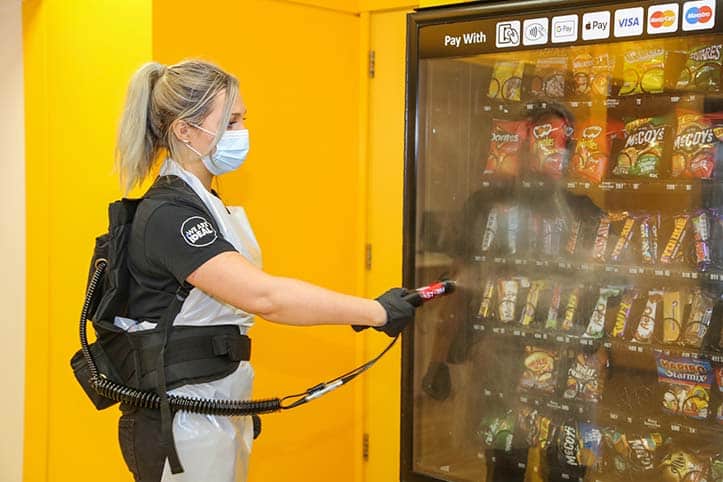 If you, like many other businesses around the world, are concerned about the hygiene and safety of your premises throughout all stages of the Coronavirus outbreak… we can help. The effective fogging services we offer will give you the peace of mind you need during these trying times, and help you gain the confidence of your employees.
The COVID-19 strain is easily spread from person to person either through a person coughing or sneezing, coming into direct contact with a person with the virus or touching surfaces previously touched by an infected person. As this is the case, correct disinfection is crucial as it is one of the most effective ways we can help stop the virus in its tracks.
Our stringent disinfection process includes treating all surfaces with our virucidal solutions including ceilings, walls and floors, as well as furniture and office equipment such as desks, chairs, computers, keyboards, mice and monitors. Doors and handles including light switches which may harbour germs are thoroughly treated. Other key areas that we treat include kitchens & toilets, corridors, lift doors and buttons, escalators, handrails, stairwells and so much more.
Just one hour after treatment, the virucial solution will air dry, leaving you with an expertly sanitised and disinfected premises which will be safe to re-enter.
We work within a wide range of business sectors whether Public or Private, large or small.
These include Schools, Medical Centres, Care Homes, Pharmacies, Funeral Care, Estate Agents, Event Spaces, Hotels, Gyms, Restaurants, Retail, Office Buildings, Private Nurseries, Industrial Units, Building Contractors, Vets and much much more.
In line with the World Health Organization's recommendations and Public Health England guidelines, our team is fully equipped with all correct PPE (personal protective equipment) including Hazmat suits, gloves and masks which are required to carry out this work. This ensures the safety of our team as well as our customers.
Our fogging service is available across the North East of England including Middlesbrough, Darlington Stockton, Billingham, Newton Aycliffe, Redcar, Hartlepool, Sunderland and Newcastle areas.
Want to know more?