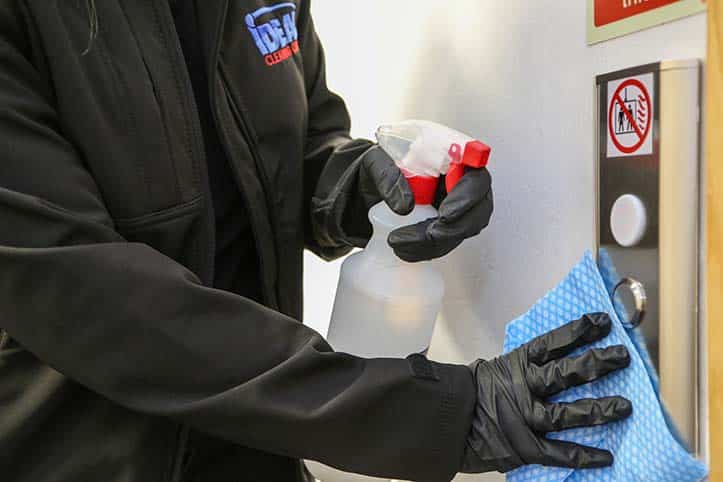 Before the Coronavirus outbreak, many of us went about our day to day lives touching a huge range of different surfaces without even thinking about it, only washing our hands occasionally throughout the day.
However, since the COVID-19 outbreak, washing our hands in the correct way for up to 30 seconds is now at the forefront of everyone's minds and is proving one of the most effective lines of defense against this invisible enemy. We wash our hands to protect ourselves from germs we may have picked up from the surfaces we have touched, in addition cleaning these surfaces offers an extra effective layer of defence.
Commonly known as touch points, these surfaces can harbour germs of all kinds, anything from up to a few hours, to possibly days. These include doors, door handles, push plates, light switches, computer equipment, telephones, desks, chair arms, vending machines, lift buttons, escalator handles, handrails, cupboard handles, kitchen areas, toilets, taps, soap dispensers… the list is endless. As this is the case, thorough disinfection and sanitisation of touch points throughout your business premises is vital for reducing the spread of the coronavirus.
Gladly, Ideal Cleaning has the solution.
Using our specialist virucial cleaning solutions, we can offer your business daily touch point cleaning that effectively kills up to 99.9999% of germs. Our cleaning solutions are safe to use across a wide range of surfaces and will not cause any damage to your equipment. Our chemicals also have a residual effect which means they will continue to work on the surface for many hours.
We can send members of our team to visit your premises on a daily basis to focus on ensuring every touch point is carefully treated, disinfected and sanitised.
We provide daily touch point cleaning to businesses across the North East of England including Middlesbrough, Darlington Stockton, Billingham, Newton Aycliffe, Redcar, Hartlepool, Sunderland and Newcastle areas.
How to make your premises Virus-Free
Our specialised deep cleaning service effectively sanitises every item and surface with a successful bacterial kill rate of 99.9999%. Alternatively known as a log kill of 6, it leaves every area of your premises hygienically clean and safe. We use a wide range of approved chemical cleaning agents that can tackle the Covid-19 Coronavirus. A variety of specialised cleaning techniques such as spraying and fogging are used to ensure even the most awkwardly placed crevice is treated. However small or large your premises are, we can make them hygienically safe.
Want to know more?