Ideal Cleaning Centre offers comprehensive contract office cleaning services throughout Middlesbrough, Stockton, Hartlepool, Darlington and surrounding Teesside area.
Our popular office cleaning Middlesbrough service proves that a clean working environment is incredibly important in business. Not only will it be a clear indication to your clients that you are serious about your company, but having a clean work space to come to every day will also keep your employees happy. However, it is not an easy task to keep an office in pristine condition. So, how do you get around this?
The answer to having a perfectly clean working environment to go to every day is to hire a professional office cleaning company in Middlesbrough like ours to do the job for you.
When your office is cleaned by experts who know exactly what they're doing, a fresh and welcoming atmosphere is created. Workers can focus properly on what they're doing when they work in a clean and hygienic environment, because they are not distracted by dirt, dust and unattractive clutter.
What are the benefits of hiring professional office cleaners for your premises?
Ideal Cleaning Centre, situated in Middlesbrough, offers the best commercial cleaning services to the entire area. We can say this with absolute confidence, because of our team of highly skilled cleaners are proud of their jobs and dedicated to the work they do.
Part of their training is to take care to pay attention to the tiniest of details in all offices they clean, to make sure that anyone checking their work afterwards will not find a speck of dust or dirt anywhere. The benefits you and your company will enjoy by hiring our office cleaning services, includes:
Meticulous cleaning contract team
Our team will come to your office and clean it thoroughly, from top to bottom, taking care to clean everything that can be cleaned. By the end of the day, your office will be comfortable and completely free of dirt and dust and this includes your carpets and floors.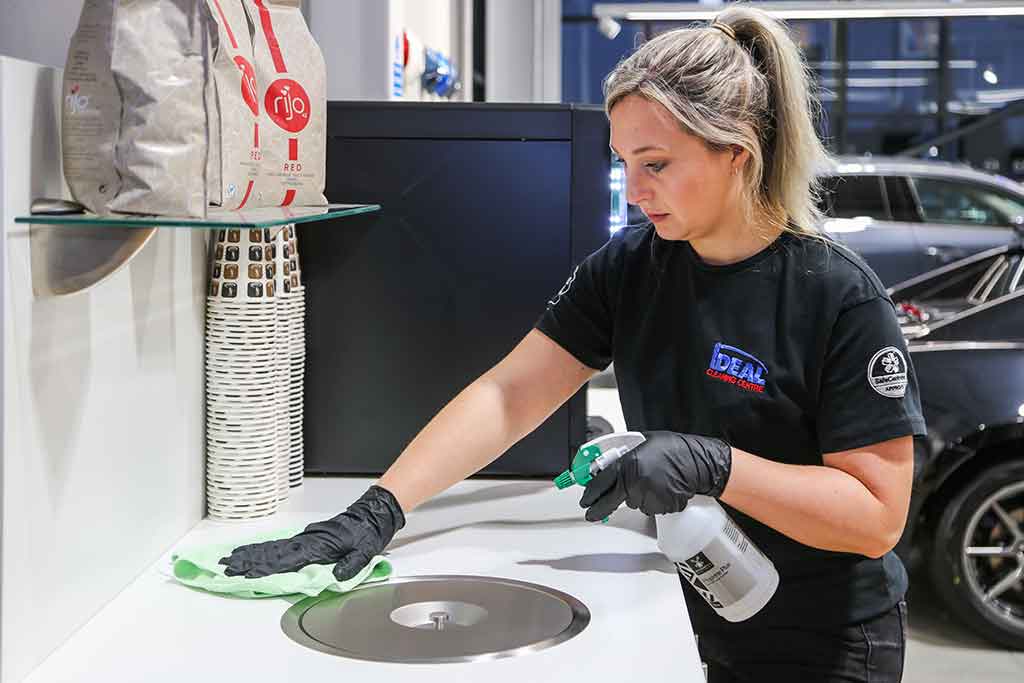 Increased productivity
Apart from a cluttered, dirty working environment creating a very bad impression on clients, it can also be a de-motivating factor for your employees. Unhappy employees usually don't work to their full potential, thus causing a reduction in productivity. However, after our cleaners have left your premises, your staff will be working in a beautifully clean environment and be perfectly happy, which will result in an increase in productivity. In other words, hiring our professional office cleaning company is an investment that will help tremendously, to increase your monthly profits.
Increased respect from your employees & better customer feedback
The effort you put into creating a clean work environment for them, will make your staff have more respect for you. Their trust in you will increase too, because they will realise that, being part of the company office, you see them as just an important part of your business, as you do a clean working environment. Since your workers will be working in a perfectly clean, healthy office space every day, there is less likelihood of them becoming ill from germs and bacteria. A lot of time and money is lost when a staff member is sick and stays off work.
Office cleaners have high-quality cleaning standards
Even if you do have staff members willing to give the office a quick clean, it will be just that – quick and half-hearted! They have work to do, so they will spend the least time possible in making the office look kind of presentable. The bottom line is that it takes a team of professionals to do an expert job, to make your office smell fresh and look brand new again. Our team will arrive at your office with all the equipment and tools necessary to do a job that will meet the high standards expected from you as a company of professionals. They have been trained to show you and your property the care and respect you deserve, so none of your furniture or other items on your premises will be damaged at all during the time that they are working there.
No complaints from employees
You'd be hard-pressed to find many people who relish the idea of working in an untidy office and most employees won't be happy about cleaning their own workplace. It is not part of an office employee's job description to sweep, scrub floors and do any other cleaning in their work environment. Expecting them to do it will result in annoyed, unhappy workers who will not give their all to the job they've been assigned to do. Hiring our company to do your office cleaning for you, will eliminate these problems altogether.
Create a relaxed atmosphere in your retail or commercial premises
It's understandable that cleaning your own office is stressful. Getting rid of clutter, cleaning floors and vacuuming carpets cuts work time down drastically, meaning that deadlines cannot possibly be adhered to. By hiring a team of experts like us to do the work for you, means that your staff can carry on with the work they need to do, in a relaxed atmosphere, while their work space is cleaned quickly and effectively, by professionals.
More business and top talent working for your commercial company
Knowing that you have gone out of your way to keep your offices impeccably clean, will very likely have your clients coming back to do more business with you. The high standard of cleanliness in your office will more than likely attract top talent – the type of people that are selective about where they want to work, the type of employee you will be proud to have as part of your company.
We are proud of our company and are confident that we are the best office cleaning business in Middlesbrough. We can help you to create the kind of impression you want for both your customers and employees.
We take on office cleaning Middlesbrough contracts of all types and work at times that suits you best, even during the night if necessary, to avoid getting in the way of your employees. This means that our team will arrive just before your staff leaves at night and leave again just before your employees start again early in the morning. We not only offer just office cleaning services but also a wide range of commercial cleaning.
Should you require any further information regarding our company or the services we offer please do not hesitate to contact us. We look forward to hearing from you and are more than willing to assist you in any way we can in various areas of the north-east of England including Stockton, Redcar, Darlington & Hartlepool.
Want to know more?
Commercial Cleaners 10 Tips to keep you office clean
An office needs to be kept clean for the general health, well-being and morale of your employees. A thoroughly clean office that is dust and germ free will not only keep your employees healthy but also make them more productive.
Why is it important to keep on top of your office cleaning?
Your employees spend the best part of their day working in the office, so it is vitally important to keep their workspace clean to make sure that they stay healthy and happy while at work.
Keeping the office clean also helps to stop pests from entering the office and particularly the kitchen/canteen area. A clean office will also prevent mould build-up which would have an adverse effect on the health of everyone, especially those employees with allergy issues.
Besides a clean office being important for the health and well-being of employees, it is also essential to have an office that is attractive to both existing and potential clients. Remember, first impressions last, and the best way to achieve this is to make sure that your office stays clean at all times.
The following are 10 great hints and tips to have a neat and tidy office that is free from dust and germs.
Archive and de-clutter your premises
With the technology we have these days, there is no reason to have piles of paperwork cluttering your desk. Instead, remove unnecessary items from your desktop and archive as much as you can. A cluttered, dirty office creates a stressful, unhappy atmosphere. It is not possible to work properly when there are unsightly distractions like leftover food and piles of paper covering the work area on your desk.
Make sure your desk is always tidy
This is the best place to start in order to keep your office looking good. Other employees will do the same if they notice that helping to keep the office clean is one of your priorities.

Respect the common areas like canteen and kitchen
Employees share the common areas such as a canteen in an office building. With everyone doing their bit to keep these common areas clean, employees will have greater respect for their colleagues and will not only be happier but will also increase their productivity.
Keep your technology clean
Employees sometimes forget to clean their phones, tablets, computers, and so forth – things that are touched constantly throughout the day. This allows bacteria to build up on these items in an office, which could lead to sickness among the workers. By cleaning the technology in the office on a regular basis, bacteria and germs will be kept at bay, thus reducing the number of days of sick leave required by employees. This could save a company a significant amount of money each year!
Carpet cleaning on a regular basis
One of the best ways to keep an office clean, is to see that the floors are cleaned regularly. Getting rid of clutter and keeping the counters and technology clean will mean nothing if the floors are dirty.
Do not forget those hard-to-reach places
All offices have those places that are difficult to get to, which can result in them being ignored. However, having dirt underneath desks and chairs can easily put off potential clients! Move all the furniture to make sure that those hard-to-reach places stay clean!
Remember to do your bit for the environment
Get rid of rubbish immediately if possible, and make sure to keep recyclable items separate from general waste.
Always keep air fresheners handy
An air freshener is a fantastic way to make a sparkling clean office smell good too, so make sure to always have a can handy. However, remember that all you want is to make the air smell as clean as your office looks, so do not overdo things. The last thing you want is for visiting clients to be overwhelmed by the air freshener you have sprayed everywhere and have a coughing fit in the middle of a meeting!
Avoid eating in the office
Food can leave unwanted smells in the air and if waste is not cleaned properly it can lead to pest control issues.
Hire a cleaning company for a small cost
It takes hours to clean an office thoroughly, so it makes sense to hire a professional office cleaning Middlesbrough company to do the job on a regular basis, rather than let your employees waste valuable work time doing the cleaning by themselves.